Homecare services ensure that your beloved gets the right care amidst his personal space. Ideally, it is our home.
When you have someone from your family requiring daily assistance for bathing, meal preparation, medication, and more, you do need someone to devote their time to them. With busy schedules, family members might not be able to perform this duty.
However, an expert coming over to take good care of them is all that you need. People have been hunting Mt. Pleasant Rehab Care, Alzheimer Care, and more for the elderly in their homes. If you are one of them, here is how you can get find the best homecare service.
How To Find The Right Homecare Service? 
It does not take much effort. Finding the right areas certainly gets you to the ideal service provider. Here's a list.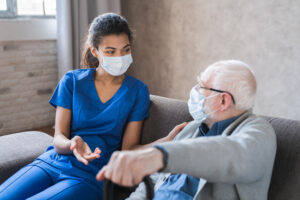 Seek A Reputed Agency: When you have a reputed company acing this segment, you need not look anywhere else. Generally, they have personnel trained to identify the needs of the patient and act accordingly. Experts in this field do the job with patience, politeness, alertness, and of course with the instruction provided to them by their superiors.
Take A Look At The Record: The record speaks for itself. If their clients have been satisfied in the past, you are most likely to achieve the same. You can look at the reviews posted on the official web handle on Google and other social media. Meanwhile, people have also gotten in touch personally with the clients of the company. You can ask for the same.
Know Their Specialty: You have to look into what their area of expertise is. If you are looking for Mt. Pleasant Rehab Care, look for agencies that have the USPs matching your requirement. If it is for other ailments and issues related to them, look for the same. What it does is it provides a professional that has an idea of the patient's requirements.
State Some Ground Rules: When it comes to taking care of people in a home, one needs to set the boundaries right. The bathing area, eating premises, balcony, and other segments when stated properly make the work easier and smoother. This way the caregiver knows where to perform specific functions and which areas he can access.
Monitor If The Requirements Are Met: The last thing that comes down to you is proper monitoring. You do have to be there to ensure the work is being done properly and the patient is making progress. After a few days or months, you should see better health and with that a happy caregiver too since he or she has to do the job happily.
Contact Lucky Dove Homecare For This Job
Lucky Dove Homecare is here to take care of your beloved. We know how much they have done for you in the past. Perhaps, it is time we take our side and do whatever it takes to make their health better and their mind happier.
We strive to be the fittest Mt. Pleasant Rehab Care service. And we are not just restricted to it. Hop on to our website to gather more details.